A new Fox News poll in Michigan finds Joe Biden leading President Trump in the presidential race, 49% to 41% and leading Trump in Pennsylvania, 50% to 42%.
A new Reuters/Ipsos poll in three key battleground states finds Joe Biden leading President Trump in all of them.
Michigan: Biden 46%, Trump 38%
Pennsylvania: Biden 46%, Trump 40%
Wisconsin: Biden 43%, Trump 40%
A new Quinnipiac poll in Florida finds Joe Biden leading President Trump, 46% to 42%.
"The candidates are holding their bases just about equally well, as Biden wins among Democrats 91% to 4% and Trump wins among Republicans 89% to 7%. The race is close among the key swing group, independents, with Biden getting 44% of the vote and Trump receiving 37%."
Said pollster Tim Malloy: "Even in the midst of an unprecedented health crisis, Florida delivers a familiar deja vu in the head to head presidential race. It's Biden, but it's close as independents play a huge potential role. Sound familiar?"
Nationally, Reuters finds Joe Biden leading President Trump by 8 points, 47% to 39%.
A new AP-NORC poll finds that only 12% of Americans say the stay-at-home measures implement to control the coronavirus go too far. About twice as many people, 26%, believe the limits don't go far enough. The majority of Americans — 61% — feel the steps taken by government officials to prevent infections of COVID-19 in their area are about right.
From a new Politico/Morning Consult poll: "Ending social distancing now is still a fringe position. Only 14% say Americans should stop social distancing to stimulate the economy even if it means increasing the spread of the virus, though that's up 4 points from last week. More than three in four, 76%, say Americans should continue to social distance for as long as necessary, even if it means continued economic damage."
First Read: "Another set of striking numbers from our latest NBC News/Wall Street Journal poll is the divide between those who know someone infected by the coronavirus (40% of registered voters) and those who don't (59%)."
"The 40% who know someone infected has a more negative opinion of President Trump's handling of the issue, trusts the president less, and is more supportive of stay-at-home restrictions."
Washington Post: "Homebound at his estate in Wilmington, Del., Biden's quarantined campaign is adjusting to a new reality in which the prime-time TV slots that would carry his rallies and speeches under normal conditions are now largely dedicated to subjects other than the 2020 presidential campaign. Making matters worse for Biden, President Trump dominates each evening with his coronavirus task force briefings, which mostly are carried live by cable and can have the feel of a daily campaign rally."
"That's left Biden with little choice but to spread his message around — bracketing the president by offering himself to local newscasts in battleground states that run his interviews while viewers wait for Trump's briefings and hamming it up on radio or late night (or late, late night) TV."
Peter Wehner: "But what may be most unsettling just now is this: At a moment when states and local communities are trying to work together, when many churches and religious communities are seeking to be agents of support and healing, when health-care workers are risking their lives to save others, the president and many of his most devoted supporters are fomenting chaos, division, and antipathy. They want COVID-19 to be the latest battlefield in a never-ending culture war."
"This is particularly worrisome because while some crises can unify a nation, pandemics have historically caused people to turn on one another. At the very moment we need as our national leader a person who can break down the dividing walls, who can strengthen our bonds of affection for one another, we have a president who is temperamentally determined to annihilate comity, a spirit of grace and self-giving, and feelings of empathy and compassion."
"At least as worrisome is the president's ability to marshal an army of supporters who model themselves after him, who take his lead, and who allow their sensibilities to be shaped by his."
Joe Biden told James Cordon on The Late Late Show that he would name his advisory panel to help him select a running mate sometime next week. The panel will include "three or four people."
Biden said the panel would interview the final contenders after the list has been narrowed down to "somewhere between two and five people."
Gallup: "As the unemployment rate continues to rise sharply in the wake of the novel coronavirus, a record-high 25% of employed U.S. adults think they are likely to be laid off in the next year."
Nate Cohn: "Today, Joe Biden leads Donald Trump by just under six percentage points among registered voters. Nearly four years ago, the final national polls showed that Hillary Clinton led Mr. Trump by around five percentage points among registered voters."
"The similarities are even starker on closer examination. The polls depict an electorate that remains split in the same ways, with Mr. Trump and Mr. Biden drawing nearly identical numbers to ones the candidates did four years ago among white voters with or without a college degree."
"But not everything is exactly the same, and even modest differences have the potential to alter the race. Mr. Biden shows early strength among older voters; Mr. Trump has made gains among nonwhite voters. There are early signs of an expanded gender gap. All of this could change by November, but all of it could be decisive in a contest with the potential to be closely fought."
"Joe Biden's campaign leadership is clashing over the future of its digital operation — a rift that comes as campaigning has moved largely online and as Biden faces a yawning deficit against President Trump's massive digital operation," Politico reports.
"The disagreement among Biden's top advisers centers on whether to hire most of its digital team internally or to rely on the firm Hawkfish, which is backed financially by billionaire Mike Bloomberg and ran the digital operation for his presidential campaign."
"The outcome of the internal battle will have far-reaching consequences for November as the coronavirus pandemic has made traditional campaigning — rallies with crowds and get-out-the-vote efforts like door knocking — all but impossible, while pushing digital campaigning to the forefront."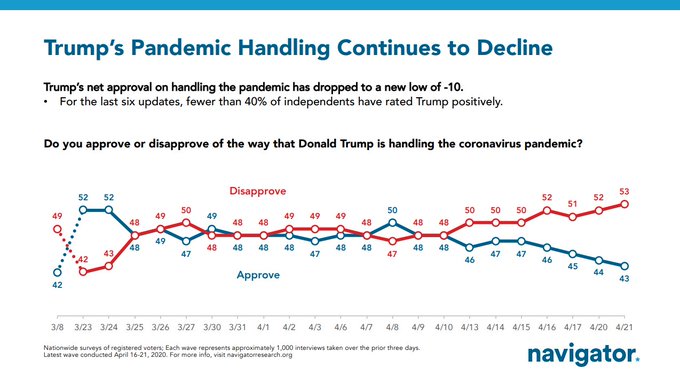 "In Florida, a state where the steady rise of mail voting has dramatically transformed the campaign season over the last 20 years, the novel coronavirus could fast-forward the evolution of elections," the Miami Herald reports.
"Elections offices in Miami-Dade, Broward and Palm Beach counties — home to more than a quarter of Florida's 13.2 million voters — are preparing to send vote-by-mail registration forms to every voter in those counties amid worries that the virus will disrupt in-person voting this summer and fall."
"The liberal candidate in Wisconsin's hard-fought State Supreme Court race this month prevailed in voting by mail by a significant margin, upending years of study showing little advantage to either party when a state transitions from in-person to mail voting," the New York Times reports.
"The gap suggests that Democrats were more organized and proactive in their vote-by-mail efforts in an election conducted under extraordinary circumstances."
Associated Press: "The president's reelection campaign has been thoroughly upended by the coronavirus. But Trump's team has revived a plan to quickly define Joe Biden, painting the presumptive Democratic presidential nominee as a Washington lifer, focusing on his links to China and insinuating that he is not up to the job."
"Though the nation is fixated on the White House's response to the pandemic, the Trump campaign is prioritizing attacks on Biden rather than selling the president's handling of the crisis. Worried about declines in support in several battleground states, the campaign is using its financial war chest to try to drive down Biden's standing by hammering his ties Beijing and, soon, reviving accusations that the former vice president and his son are corrupt."
"The playbook was written months ago."
The China bit is not working.
Politico: "The economic and political impact of the coronavirus crisis is beginning to reverberate across the presidential battleground states, creating unforeseen red-state opportunities for Joe Biden but also offering promise for Donald Trump in several Democratic-leaning states where his prospects once seemed limited."
"Interviews with more than 30 political strategists, campaign advisers and officials in both parties paint a portrait of an expanded swing state electoral map, upended by the coronavirus pandemic and the economic dislocation it has caused."
Washington Gov. Jay Inslee (D), one of the Democratic Party's most prominent environmentalists, endorsed Joe Biden for president "after extensive private conversations in which Mr. Biden signaled he would make fighting climate change a central cause of his administration," the New York Times reports.
Wall Street Journal: "While Mr. Trump's national poll numbers hold steady and his base supporters remain loyal, the fast-moving virus could complicate his path in some of the states that delivered him to the White House in 2016, some fellow Republicans say. The pandemic has wiped out the economic strength Mr. Trump planned to run on, giving an opening to presumptive Democratic presidential nominee Joe Biden."
"Among six states seen as 2020 battlegrounds—Michigan, Pennsylvania, Wisconsin, Florida, Arizona and North Carolina—there have been some warning signs, as well as evidence of support for Mr. Trump. The political equation could change further in those states as some governors move to lift coronavirus restrictions soon, as Mr. Trump has urged, and others choose to wait."
"Some Republicans close to the White House said there were concerns about his prospects in some of these states, in particular the Midwestern states he won narrowly in 2016."