A new CBS News/YouGov poll finds 59% of Democrats say that they tend to view Republicans as political opponents, while 41% view them as enemies.
In contrast, 57% of Republicans say that they tend to view Democrats as enemies, while 43% view them as political opponents.
TEXAS 6TH CD — A special election will take place later this year to succeed Republican Rep. Ron Wright, who died Sunday after contracting COVID-19, and a few names have already surfaced in both parties as possible special election candidates.
On the Republican side, Arlington Mayor Jeff Williams said he would think about the race at a later date. Fort Worth City Council member Cary Moon, meanwhile, didn't directly indicate if he was interested in his communication with the Fort Worth Star Telegram, though he did describe himself as "a business owner with good ties to the district."
The Dallas Morning News notes that some Republicans may be waiting to see if the congressman's widow, Susan Wright, runs before deciding what they'd do. The paper also mentions Tarrant County Sheriff Bill Waybourn as a possible contender. Waybourn later put out a statement "asking everyone on behalf of Congressman Wright's family to refrain from speculating on who might replace such an amazing man – that season is not here yet."
One Republican who did say he wouldn't be campaigning here is former Rep. Joe Barton, who represented Texas' 6th District for 17 terms before leaving office amid a sex scandal in 2018. Barton did, however, take the chance to name state Rep. David Cook and Waxahachie Mayor David Hill as potential candidates for Team Red.
On the Democratic side, 2020 nominee Stephen Daniel said he was thinking about another try. 2018 nominee Jana Lynne Sanchez, who went on to serve as Daniel's campaign manager, did not address her plans in her statement about Wright's death, saying, "[W]e can talk about politics later." The Dallas Morning News also mentioned state Sen. Beverly Powell as a possibility, while Barton speculated that state Rep. Chris Turner "would be a good candidate" for the Democrats.
Under Texas law, all the candidates will run on the same ballot in an all-party primary rather than in separate partisan primaries. If no one takes a majority, a runoff would take place between the top two vote-getters, regardless of party. This seat, which includes Arlington and rural areas south of Dallas, supported Trump 51-48 last year after backing him by a larger 54-42 margin in 2016, but Wright won his second term 53-44 against Daniel.
ALABAMA U.S. SENATOR — Former state Rep. Perry Hooper, who served as a Trump state chairman, told Vice that he was considering a bid and expected to decide in three to four weeks.
Politico reports that former Ambassador to Slovenia Lynda Blanchard, who is a major party donor, is also eyeing the race and that state Senate President Pro Tempore Del Marsh is also a possibility, though there's no word if Marsh, who is not seeking re-election next year, is interested.
Former Trump adviser Cliff Sims is considering a run for Alabama's open Senate seat, Politico reports. Sims departed the White House in 2018 after working in the communications office and published Team of Vipers, a bestselling memoir that documented his experiences in the White House and detailed staff infighting. Trump attacked the book upon its release, describing Sims as a "low-level staffer" and "gofer" whom he "hardly knew."
PENNSYLVANIA U.S. SENATOR — Software executive John McGuigan, who is a former president of the Norristown Borough Council in the Philadelphia suburbs, announced this week that he would join the Democratic primary. The only other Democratic candidate running so far is Lt. Gov. John Fetterman, whose Monday kickoff attracted far more attention than McGuigan's entry.
A number of other Keystone State politicians are also considering joining the contest to succeed retiring Republican Sen. Pat Toomey. PennLive reports that one of them is former state Treasurer Joe Torsella, a Democrat who narrowly lost re-election last year against Republican Stacy Garrity. It also names two Republicans, Rep. Dan Meuser and U.S. Attorney Scott Brady, among the "[o]thers widely believed to be looking at the race," though there's no other information about their deliberations.
The Erie Times-News, meanwhile, name-drops Rep. Matt Cartwright as a possible Democratic contender, which is the first time we've heard him mentioned for this race.
VIRGINIA GOVERNOR — Businessman Peter Doran announced Tuesday that he would seek the Republican nomination, which will be decided at a May 1 party convention rather than through a traditional party primary. The Associated Press writes that, when Doran ran a think tank called the Center for European Policy Analysis, he "warned about Russian efforts to undermine Western democracies," which is not likely to be an issue that helps him win over Trump-worshiping Republican delegates.
Meanwhile, businessman Pete Snyder is running his second TV spot ahead of the GOP nomination battle. This commercial, which is similar to his opening ad, features him calling for reopening schools "now."
GEORGIA 14TH CD — Physician John Cowan confirmed this week that he was mulling a rematch against the infamous Rep. Marjorie Taylor Greene, who defeated him in last year's GOP primary runoff 57-43. The Atlanta Journal-Constitution wrote that Cowan was "waiting to hear encouragement from Republican leaders and local party figures" before he decides whether or not to take on the incumbent.
Cowan, though, didn't say what he was hearing back, or which way he was leaning. In a separate conversation with the Rome News-Tribune, he described himself only as "undecided."
"There are at least 165 proposals under consideration in 33 states so far this year to restrict future voting access by limiting mail-in ballots, implementing new voter ID requirements and slashing registration options," Axios reports.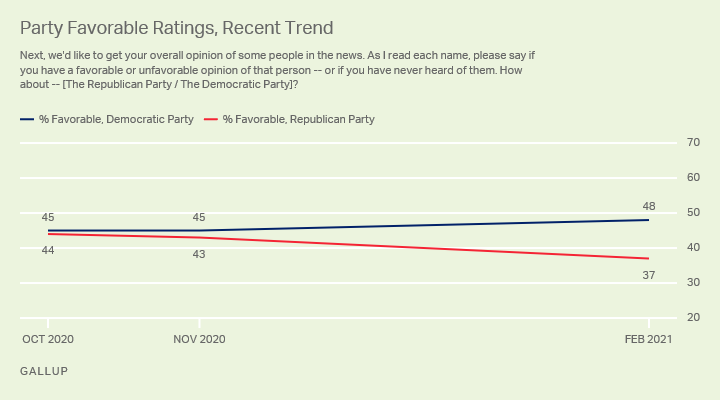 OHIO U.S. SENATOR — Josh Mandel (R) told WKYC that he entered the Ohio U.S. Senate race pledging to carry on former President Donald Trump's agenda.
Said Mandel: "I've been watching this sham and unconstitutional impeachment, and it's really made my blood boil and it's motivated me to run for the U.S. Senate. I want to go to Washington to stand up for the Trump America first agenda."
House Republicans have laid out their path to winning back the chamber they came close to flipping in 2020. They plan to rely on a similar playbook: slamming the Democrats as socialists who will implement "job killing policies," while at the same time downplaying any divisions within the GOP, CBS News reports.
How original.
"Facebook said it is beginning to reduce how much political content users see in their news feeds, potentially diminishing the role that the world's largest social network plays in elections and civil discourse more broadly," the Wall Street Journal reports.
"Dozens of former Republican officials, who view the party as unwilling to stand up to former President Donald Trump and his attempts to undermine U.S. democracy, are in talks to form a center-right breakaway party," Reuters reports.
"The early stage discussions include former elected Republicans, former officials in the Republican administrations of Ronald Reagan, George H.W. Bush, George W. Bush and Trump, ex-Republican ambassadors and Republican strategists."
"More than 120 of them held a Zoom call last Friday to discuss the breakaway group, which would run on a platform of 'principled conservatism,' including adherence to the Constitution and the rule of law – ideas those involved say have been trashed by Trump."
Council on Foreign Relations President Richard Haass announced that he has officially left the Republican Party, invoking a version of famous quote from his former boss, Ronald Reagan: "I didn't leave the Republican Party; the Party left me."
Washington Post: "Since Trump left office, grass-roots Republican activists and state parties have become his vociferous defenders, condemning and censuring elected Republicans who dare to deviate in any way from full-throated support of the former president. That has created a backlash of its own, as some Republicans — even some who eventually may oppose impeachment — are pushing back against local leadership."
"The resulting clashes have laid bare the division in the Republican Party, which some strategists worry will undercut the party's chances in the 2022 midterm elections, when winning House and Senate majorities are likely to hinge on a united party that can draw out Trump's supporters and win converts from among swing voters who were repelled by the former president's politics."
"As it stands, the party is still a long way from that sort of unity."