This is really bad.
Twenty two million fewer people would have insurance under the Senate GOP's health care bill by 2026 when compared to current law, the Congressional Budget Office said Monday. The CBO's analysis of the Senate's Better Care Reconciliation Act, which would partially dismantle the Affordable Care Act, comes just days before the Senate is expected to vote on the bill.
The analysis find that the Senate Republicans did not much better than their House counterparts—whose Obamacare repeal bill the CBO found would result in 23 million losing insurance—in staving off devastating coverage losses under their plans. The CBO said of the Senate bill on Monday that the first round of coverage losses, some 15 million in 2018, would come from the elimination of the individual mandate.
Whoa… 15 million in 2018.
And then there's this:
The Senate Republican healthcare bill could see 4 million people with employer-provided health insurance lose their coverage, according to a report from the non-partisan Congressional Budget Office. The new bill was always likely to leave fewer Americans with health insurance, considering the House version left 23 million more uninsured by 2026. It succeeded there, too: 22 million more people will be uninsured under the Senate plan. But stripping coverage from Americans who get it at work is truly stunning. Employer-based coverage is considered the backbone of the current system, and it's a frequent subject for Republican rhetoric that dictates if people want insurance, they should get a job. Lesson learned: Don't sleep on Mitch McConnell. [emphasis mine]
Here's a chart: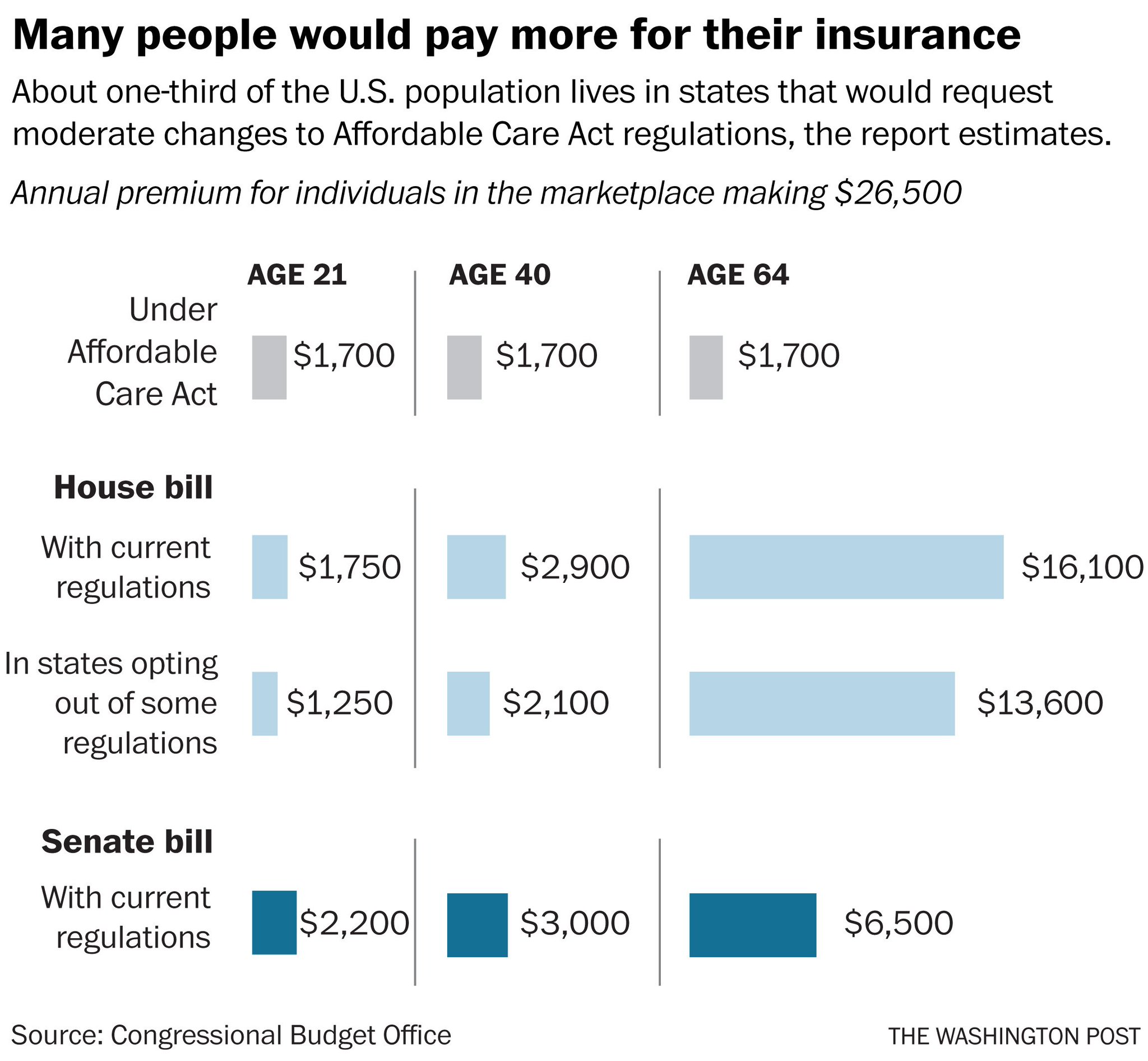 So much for better coverage at a cheaper cost.
About those Medicaid cuts… I hope everyone has approximately 114,000.00 a year for nursing home care for mom. (based on Delaware's average daily cost – which can be significantly higher if there's special conditions. The cost we were quoted for my father-in-law was 18,000.00 a month.)  Oh, and if you need it for dad, too, you'll have to double that amount.